Unlocking Multifamily Marketing Insights
At ApartmentGeofencing.com, our curiosity never wanes when it comes to the multifamily marketing landscape. With the data in hand, we've analyzed and broken down this year's trends and the areas that may need more attention.
Recently, we conducted a survey involving 30 multifamily marketers from various property management companies across the United States. Our goal was to learn about the ins and outs of their marketing strategies in 2023. Specifically, we wanted to understand what ranks high on their list, what's lagging behind, and to discern the distinctions between their active strategies and those that have been overlooked or underutilized.
Current Marketing Trends in 2023
Search Engine Marketing: It's no surprise that search still drives most marketing budgets, in multifamily and really just about any industry vertical. 92% currently run PPC campaigns on Google, and 88% are focused on SEO to drive organic web traffic to their property websites. Survey respondents also ranked PPC as the most important advertising tactic.
Streaming TV Advertising: With more people switching to on-demand TV, many marketers are investing in this medium. Our survey indicated that 84% have integrated streaming TV into their advertising strategy.
Paid Social: Platforms like Facebook and Instagram continue to be the mainstays. Most multifamily marketers are tapping into these platforms for their advertising needs. Very few are utilizing TikTok or LinkedIn, for paid social campaigns (or otherwise), and no other social media platforms ranked in our survey results.
Geofencing: A significant number of apartment marketers are leaning on geofencing to promote their properties. This technology capitalizes on proximity, sending ads to people's phones when they're in the vicinity, making it a direct and efficient way to reach potential renters.
Marketing Automation: Efficiency is key. About 76% of the marketers we surveyed are utilizing automation tools to enhance and streamline their outreach.
See our participants top selections below: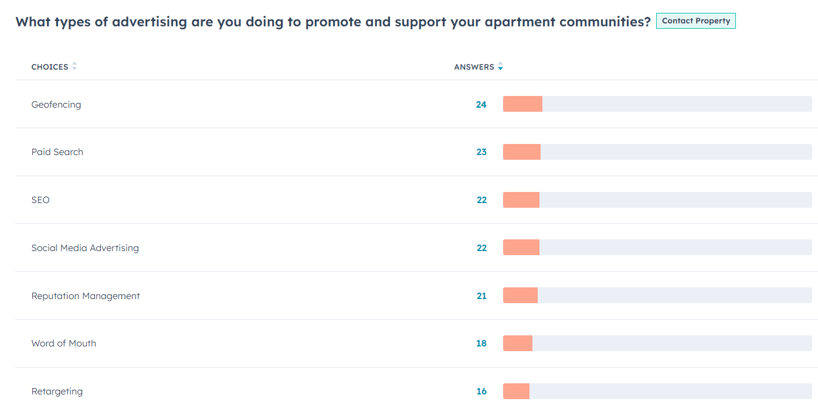 Note: This survey was sent to existing clients of ApartmentGeofencing.com.
Less Explored Avenues
Traditional Media: Old-school methods such as radio and print advertising are less frequented in 2023, but they may still hold untapped potential for certain target audiences, especially with advances in audience-based direct mail and the ability to run geofence marketing around certain outdoor advertising placements.
Emerging Social Media: Newer platforms, notably TikTok, are on the rise but haven't been fully embraced in the multifamily sector. Time will tell whether these platforms have a place in multifamily marketing.
Wi-Fi Marketing: Some newer remarketing techniques, like Wi-Fi marketing, hold promise but haven't reached widespread adoption. 74% of survey respondents indicated an interest in Wi-Fi marketing as a marketing tool.
Making Choices in Marketing
When determining their marketing mix, multifamily marketers in 2023 prioritize cost-effectiveness, precision in targeting, and a demonstrated return on investment — and efficacy is key, with tactics like search engine marketing the most ubiquitous amongst the different marketing tactics.
Looking to the Future
There's a noticeable interest in scaling up spend and reach across streaming TV platforms and exploring newer avenues like Wi-Fi Marketing and harnessing the power of influencer marketing. Moreover, the spirit of collaboration remains strong, with many indicating a preference to partner with varied experts across different marketing domains rather than a one-stop-shop type of agency. 76% say they would prefer to collaborate with multiple vendors, provided they perform excellently.
Advanced targeting with hyper-local precision, increased use of streaming TV to deliver relevant messages with fewer wasted impressions, and an eye toward new marketing tech will be the primary focus of multifamily marketers in 2023 and 2024, all while ensuring high-efficacy tactics like Paid Search, SEO and Paid Social are well optimized and maintained. And, with email visibility and tracking becoming harder to manage, don't be surprised to see direct mail making it's way back into multifamily marketing budgets.
In Conclusion
2023 is shaping up to be a year of blending tried-and-true methods with new innovations. While some strategies are clearly in the limelight, there's an underlying momentum towards experimentation and broadening horizons. ApartmentGeofencing.com is committed to guiding multifamily marketers, offering insights and tools tailored to this dynamic landscape. As we delve deeper into the year, expect more revelations and knowledge-sharing from our end!