We conducted a survey of 40 multifamily marketing professionals to gain insights into the advertising landscape as we head into 2024. Their feedback has provided us with a comprehensive understanding of the trends shaping the industry. We're excited to share these insights with you and delve into what they mean for the future of multifamily marketing.
The Pulse of Multifamily Marketing: A Survey Summary
Before we dive into the trends and takeaways, we want to express our heartfelt gratitude to our clients for participating in this survey. Your input is instrumental in shaping the future of our industry, and we appreciate your contribution!
Topline Takeaways

Multifamily Marketers Prioritize Audience Quality and Reach: Quality over quantity is the mantra here. Multifamily marketers place a premium on the scope and relevance of their audience. They value targeting precision, proven results within their industry, and insights gained from previous campaigns. This underlines their commitment to efficient advertising with tangible outcomes.
Specialization Over Jack-of-All-Trades: Multifamily marketers are leaning towards collaboration with specialized vendors, each excelling in their respective domains, rather than relying on a single vendor with average proficiency across multiple areas. Efficiency and excellence in campaign management are paramount in vendor evaluations.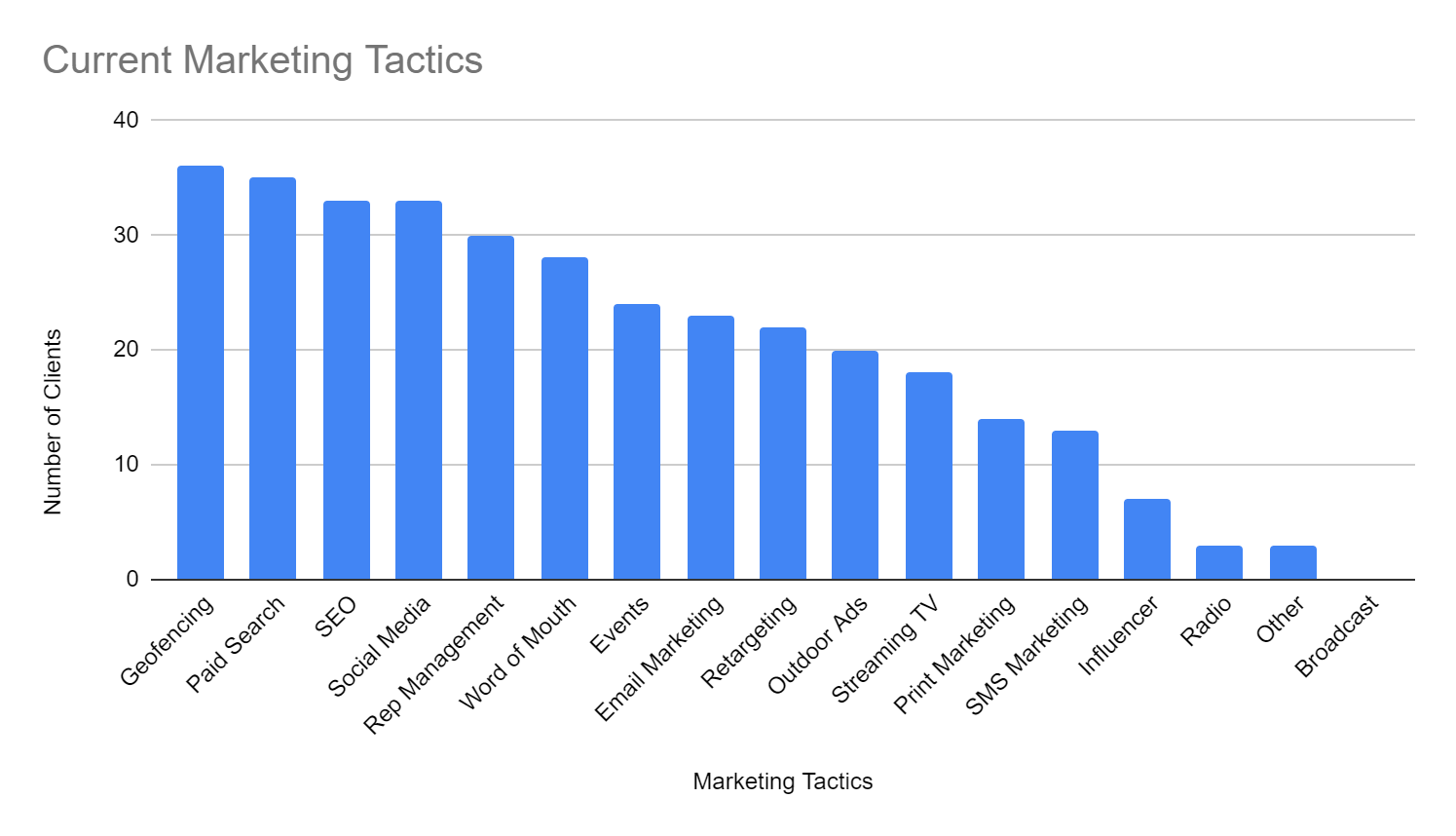 Search Remains On Top: As expected, paid search continues to dominate the multifamily marketing landscape, with a whopping 90% of survey participants leveraging it for business growth. This emphasizes the enduring importance of search-centric strategies. Additionally, 85% emphasize the significance of SEO/content marketing and paid social media in their marketing mix.
Strategic Gaps Include Streaming TV and SMS Campaigns: The survey results reveal some exciting opportunities for growth. Streaming TV, with only a 46% adoption rate, and SMS Messaging, at 33%, are two tactics that hold substantial untapped potential. If harnessed effectively, these strategies could yield significant benefits for multifamily marketers.
Linear TV and Radio See a Downward Trend: Broadcast TV and Radio remain in the cellar for multifamily marketers. With clients allocating their budgets to programmatic advertising and direct streaming media purchases, we don't see traditional radio or TV ever making a comeback. Giants like Hulu, Paramount, Disney, and Spotify lead the charge in this shift.
Facebook (Meta) Still Dominates Paid Social: Facebook and Instagram continue to dominate the paid social media landscape with a 97% usage rate. However, TikTok is gaining traction at 38%, followed by LinkedIn at 18%. Twitter (now 'X') lags significantly behind, with just a 1% usage rate. Multifamily marketers are diversifying their social media presence to reach a wider audience.
Marketing Automation is Now Mainstream: An impressive 69% of respondents use marketing automation tools to streamline their marketing efforts. This reflects the industry's recognition of the benefits of automation in improving efficiency and campaign management.
Data Deep Dive: What the Numbers Tell Us
We asked our clients to rate their preferred tactics based on importance, with "10" being the most crucial. Here's a concise list of their ratings: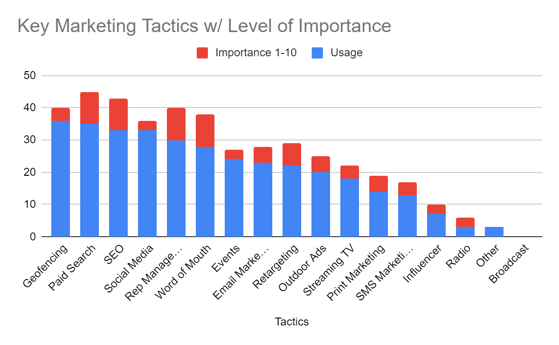 Most Utilized Advertising Tactics: Paid Search (90%), SEO (85%), Social Media Advertising (85%).
Least Utilized Advertising Tactics: Broadcast TV (0%), Radio (1%), Outreach Marketing (Cold Calling) (1%), Influencer Marketing (18%).
Video Strategy: 85% are already using video in their advertising mix.
Social Media Platforms: 97% advertise on Facebook and/or Instagram, 38% on TikTok, 18% use LinkedIn, and only 1% use Twitter.
Major Influencers in Choosing Advertising Tactics: Budget (54%), Audience (44%), Targeting (28%), ROI (25%), Results (25%).
Additional Insights:
Advertising Tactics Missing in Strategies: Email Marketing (28%), Influencer Marketing (28%), Streaming TV (28%), SMS Marketing (15%), Retargeting (13%).
Advertising Campaign Management: 33% feel there are areas of marketing they wish they didn't have to manage. Common areas they'd prefer not to manage include ILS Management, Vendor Research, Data Analysis, Email Marketing, Social Media, SEO & Reputation Management.


Preference for Collaboration: 65% prefer to collaborate with multiple vendors, provided they perform excellently.
Taking Action: Where Clients May Need Help
Based on the survey data, we've identified specific areas where clients may require assistance in optimizing their marketing tactics:
SMS Marketing: Despite its importance rankings of 4, 6, and 8 out of 10, SMS marketing has a usage rate of only 13%, indicating a need for guidance in optimizing strategies.

Email Marketing: With a usage rate of 59% but an importance ranking of 5 out of 10, clients might need assistance in improving the effectiveness of their email marketing efforts.

Retargeting/Remarketing: With a usage rate of 56% and an importance ranking of 3 out of 10, clients might need support in refining their retargeting strategies for better results.

Streaming TV: While used by 46% of clients, Streaming TV has an importance ranking of 6 out of 10, indicating that clients may need help in optimizing their advertising strategies on this platform.

Influencer Marketing: With a relatively low adoption rate of 18% but a high importance ranking of 7 out of 10, clients may benefit from guidance on understanding and effectively implementing influencer marketing campaigns.


Our client survey has provided us with valuable insights into the multifamily marketing landscape. The industry continues to evolve, with a strong focus on search-centric strategies and growing interest in emerging tactics like Streaming TV and SMS Marketing. As multifamily marketers prioritize audience quality and reach, they are also embracing automation tools and specialized vendors to drive efficiency and excellence in their campaigns.
These findings not only inform our approach but also highlight specific areas where our clients may benefit from our support and guidance. Our commitment is to continue assisting our clients in staying at the forefront of the multifamily marketing industry.