For years, the multifamily industry has been criticized for lagging behind when it comes to marketing technology adoption. Critics have argued that strategy, platforms and tracking have been stuck in a time warp.
However, being immersed in the digital marketing landscapes of other verticals such as restaurants, retail and hotels, I can confidently say that this perception is no longer valid. The multifamily industry has undergone a remarkable MarTech transformation, closing the gap and often leading the way in various aspects of digital marketing.
Comparing to Other Verticals


Hotels

If you think apartments are tied to ILSs, hotels are doubly so with OTAs (online travel agencies). We've always looked at hotel brands with envy in multifamily. How awesome would it be to have brands and sub-brands instead of individual apartment brands and websites? Well, I'm here to say multifamily is doing it right. With hotels, national branding creates affinity, yes, but hotels at the local level become commodities. There's nothing unique about the individual hotel at the neighborhood level.
Imagine being the owner of a multi-million dollar investment and not be able to distinguish it any way other than price? That's the dilemma for many of our clients and we're working with them to create localized creative to finally break out of the OTA mold.
Restaurants
Restaurants are great at branding and creating excitement but the majority of them don't have the basic digital marketing components in place. Restaurant reputation management, for example, is years behind multifamily. Also, restaurants are years behind in tracking for what's driving marketing performance.
Many of our restaurant clients struggle attributing success of digital campaigns to their sales. We're working with them to make these correlations and create new terminology.
Navigating Past Critiques
When I worked for Bozzuto, I remember speaking about this very topic at the 2012 AIM Conference (check out my 2012 Bozzuto speech here). During that time, we grappled with a significant challenge: our reliance on too many different Internet Listing Services (ILSs) for lead generation. While these services were delivering monthly data, extracting valuable insights from them became a challenge.
I was looking for specific metrics critical to the success of our campaigns, including website traffic, bounce rates, KPIs, video views, and completion rates. However, accessing this data proved to be difficult.
Adding to the complexity was the influx of data from numerous vendors. Managing the dashboards and deciphering all of the different datasets became extremely complicated. Each vendor had its own unique interpretations of the data, which would often lead to a labor-intensive process for both my team and our partners as we would try to piece together the answers we were looking for.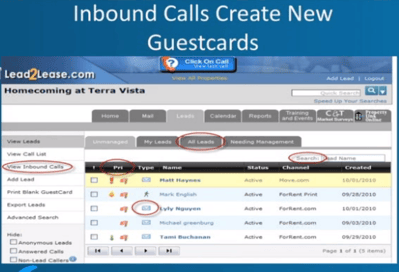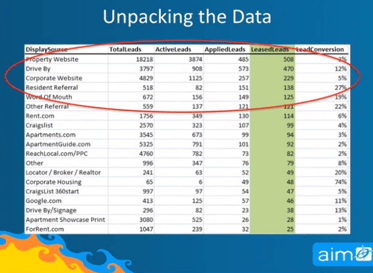 Back then, everyone in multifamily wanted a cost per lead and cost per lease for each source. We had been conditioned to think that way by ILSs. But in the last decade, I've talked to so many clients who now understand the customer sales funnel and place more value on branding, awareness, findability etc. It's remarkable how much my conversations with multifamily marketing experts are similar to those in hospitality. We finally get it!
The Turning Point
The turning point for MarTech in the multifamily industry came, I think, with the rise in PropTech and the realization that technology adoption wasn't a choice but a necessity. Property owners and managers understood that resident expectations were evolving rapidly. Residents demanded the same convenience, efficiency, and personalization in housing that they experienced in other aspects of their lives like shopping, dining, and travel.
Here's how the multifamily industry has transformed:
Property Management Software: One of the most significant advancements is property management software. Today, property managers can automate tasks such as rent collection, maintenance requests, and lease renewals, reducing errors and streamlining operations.

Tenant Portals and Apps: Multifamily properties have introduced tenant portals and mobile apps, enabling residents to pay rent, submit maintenance requests, and access vital documents with a few taps on their smartphones. These platforms enhance tenant experiences with 24/7 access to essential services.

Smart Home Integration: Multifamily properties increasingly incorporate smart home technology. Residents can control lighting, thermostats, and security systems through their smartphones, improving security and energy efficiency.

Virtual Tours and Leasing: Virtual and augmented reality technology has improved the leasing process. Prospective tenants can take virtual tours, simplifying their rental decisions without the need for physical visits.

Predictive Analytics: The multifamily industry leverages data and predictive analytics for informed decision-making. Property managers use data to set competitive rental rates, predict maintenance needs, and improve overall property performance.

Sustainability Initiatives: Multifamily properties have adopted sustainability initiatives, integrating energy-efficient systems to reduce environmental footprints. Technology monitors and optimizes energy consumption.

Tenant Engagement: Multifamily properties engage with tenants through digital channels like social media, email newsletters, and community forums. This fosters a sense of community and keeps residents informed about property updates and events.
Digital Marketing Growth: The multifamily industry leverages data-driven strategies, social media platforms, and location-based targeted advertising to enhance tenant engagement and optimize property management. This digital transformation has empowered property owners and managers to reach their target audience more effectively and efficiently.
The Power of Data and Artificial Intelligence
The final frontier is to marry MarTech and PropTech with AI. Data isn't just an asset; it's a strategic weapon. AI-driven tools can optimize marketing performance and property operations.
The Perception Has Changed
The perception that the multifamily industry lags in MarTech adoption should now be over.
As technology continues to advance, expect even more groundbreaking developments in MarTech for multifamily, such as CDPs. The industry will no longer play catch-up, instead leading the way. We might even see our peers in hospitality show up at our conferences.