Unlocking Success: The Power of a Professional Apartment Website for Marketing
In today's competitive multifamily housing landscape, an apartment community's online presence can make all the difference in attracting and retaining residents. A well-designed and professional website is more than just a digital platform; it's a virtual window into your property that shapes potential residents' first impressions and guides their decision-making process. Let's delve into why having a top-notch apartment website is crucial for effective marketing, drawing insights from industry experts and valuable resources.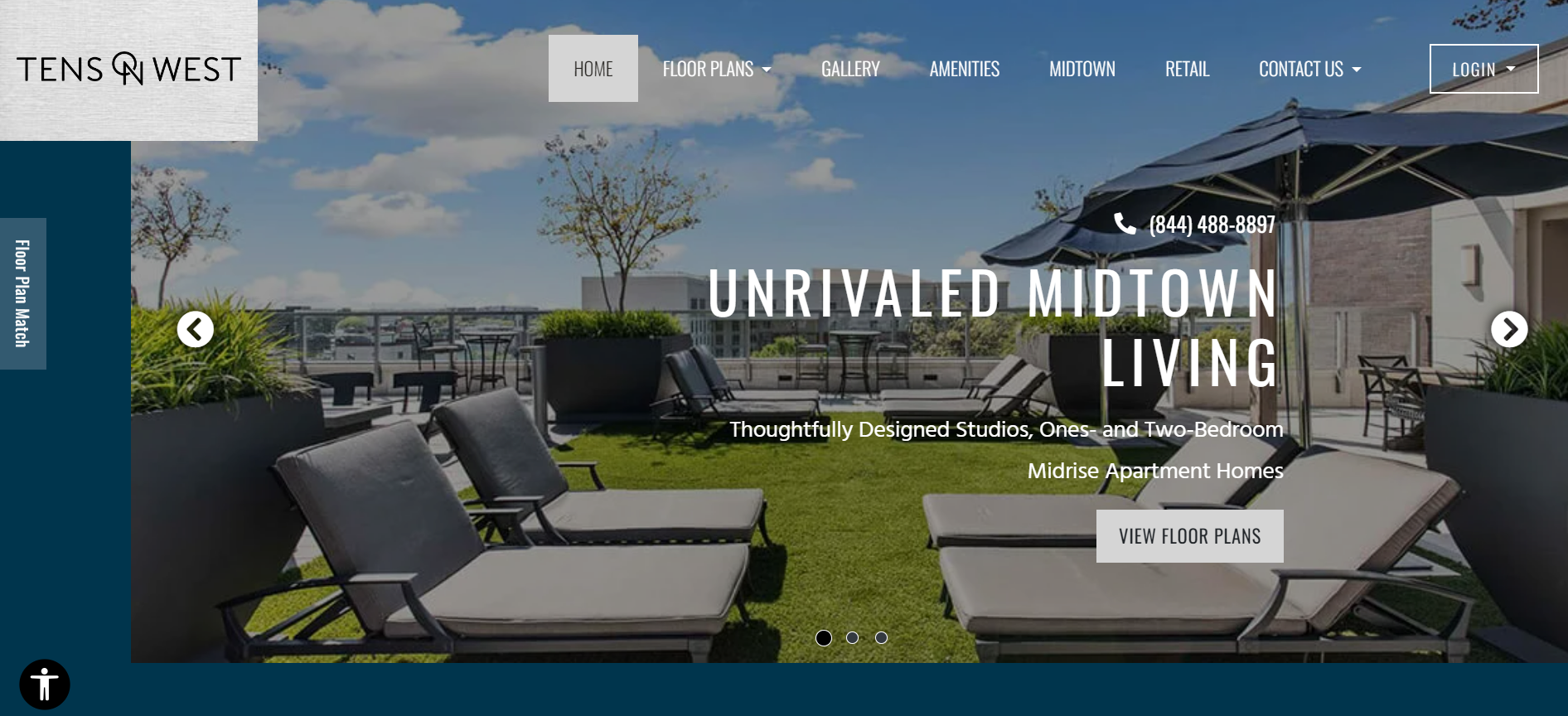 Example: Tens on Wes | www.tensonwest.com
The Digital Welcome Mat
Much like a welcoming entrance to your physical property, a professional apartment website serves as a virtual welcome mat. It's often the first interaction prospects have with your community, making it vital to create an immediate positive impression. Industry thought leader Mike Whaling highlights that your website should reflect your property's unique personality while offering a wealth of information to satisfy visitors' curiosities. (Read more from Mike's newsletter here).
A Guided Exploration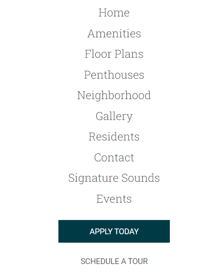 Think of your apartment website as a guided tour of your property, available at your prospects' fingertips. A user-friendly interface ensures that visitors can seamlessly explore your offerings, from floor plans and amenities to pricing and lease details. The information you provide can significantly influence their decisions, simplifying the leasing process and reducing the need for excessive follow-up questions.
User Experience is Key
The concept of user experience (UX) is pivotal in the digital realm. An intuitive and easy-to-navigate website keeps visitors engaged, encouraging them to delve deeper into what your community has to offer. As PERQ, a leader in multifamily solutions, emphasizes, your website should be responsive and functional across various devices, ensuring a seamless experience for both desktop and mobile users.
Capturing the Essence
More than just conveying information, your apartment website should encapsulate the very essence of your community. Elevate your online presence with high-quality images, immersive videos, and interactive elements that offer a glimpse into life within your property's embrace. By sharing authentic resident stories and testimonials, you foster a profound sense of belonging, allowing potential residents to envision themselves seamlessly integrated into your community. Now, innovative platforms like Rentgrata extend the opportunity to connect with current residents, offering real-life testimonials that enrich your decision-making process. With these evolving possibilities, the significance of a well-crafted property website becomes even more pronounced.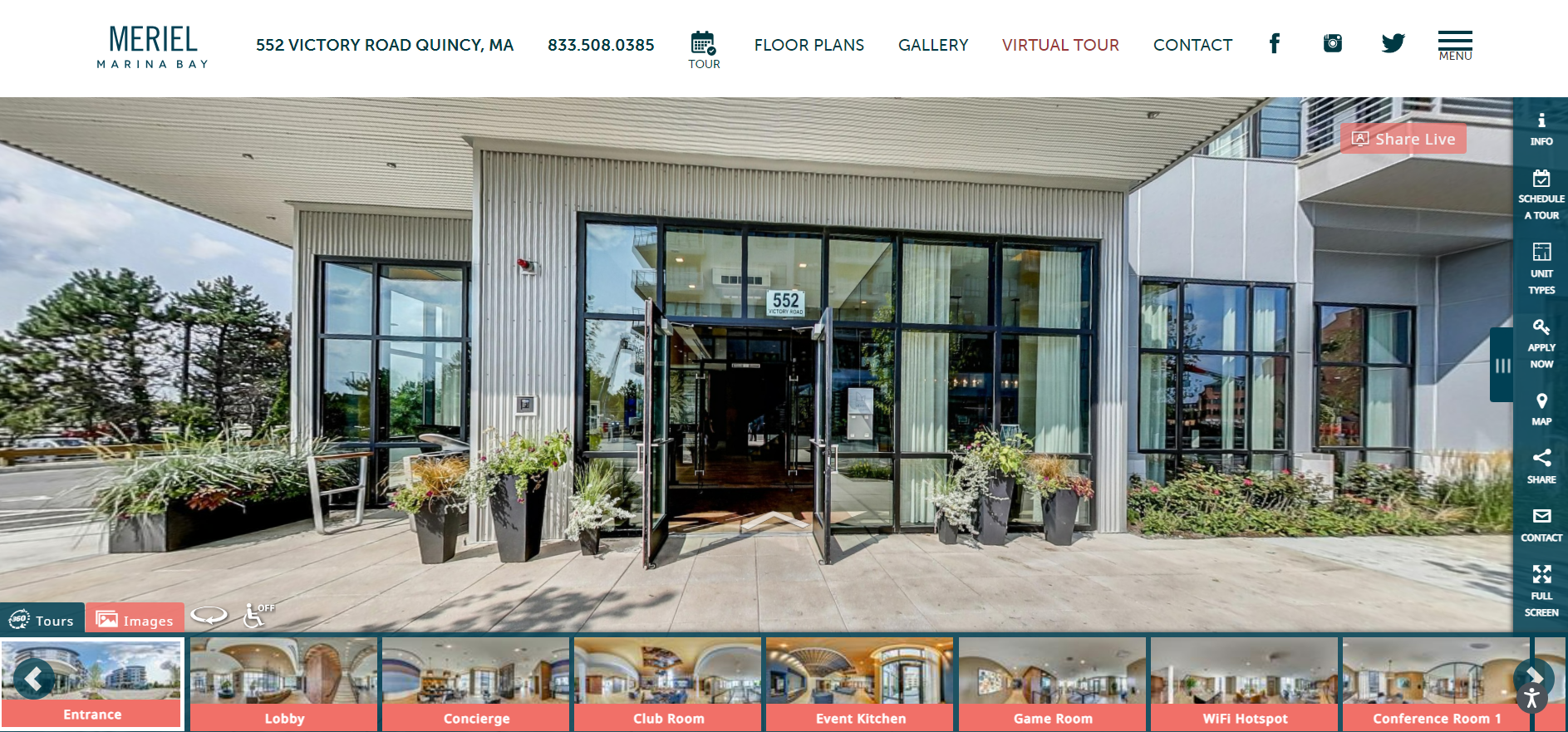 Example: Meriel Marina Bay | www.merielmarinabay.com
While your website primarily serves visitors, it also plays a vital role in search engine optimization (SEO). A well-optimized website with relevant content and keywords can boost your property's visibility in search engine results. This means that potential residents are more likely to stumble upon your community when searching for housing options in your area.
The Art of Color Psychology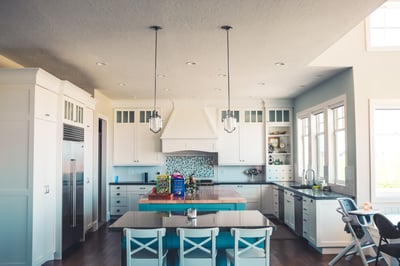 The influence of color psychology is not to be underestimated. The use of colors on your website can evoke emotions and influence visitors' perceptions. HubSpot's insights on color psychology reveal that different hues can elicit various feelings, making it essential to choose a color palette that resonates with your community's identity and appeals to your target audience.
Your apartment community's website is more than an online brochure—it's a powerful marketing tool that can significantly impact your success. As you embark on the journey of designing or revamping your website, remember to keep user experience, transparency, and engagement at the forefront. By taking inspiration from industry insights and best practices, such as those provided by Mike Whaling and PERQ, you can create a website that not only attracts visitors but also converts them into satisfied residents. Your website isn't just a digital space; it's a key to unlocking a bright future for your multifamily property.